H5mag Professional
The monthly subscription plan for creative professionals and marketeers
Get Started
Start with a free trial – no credit card required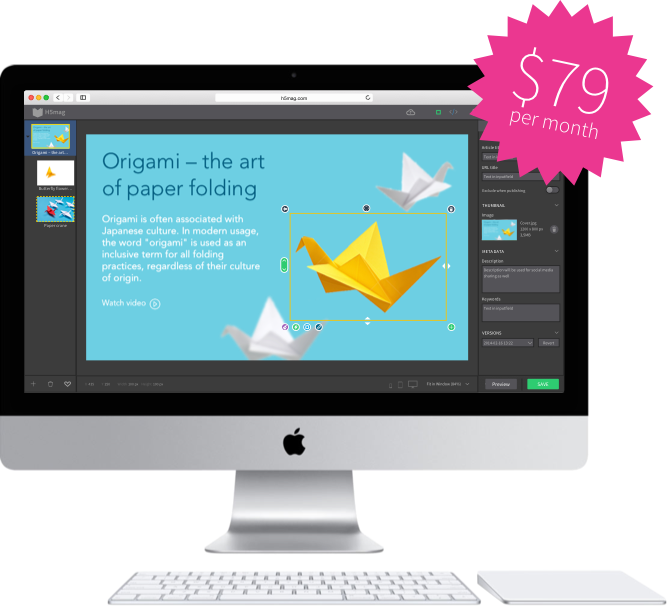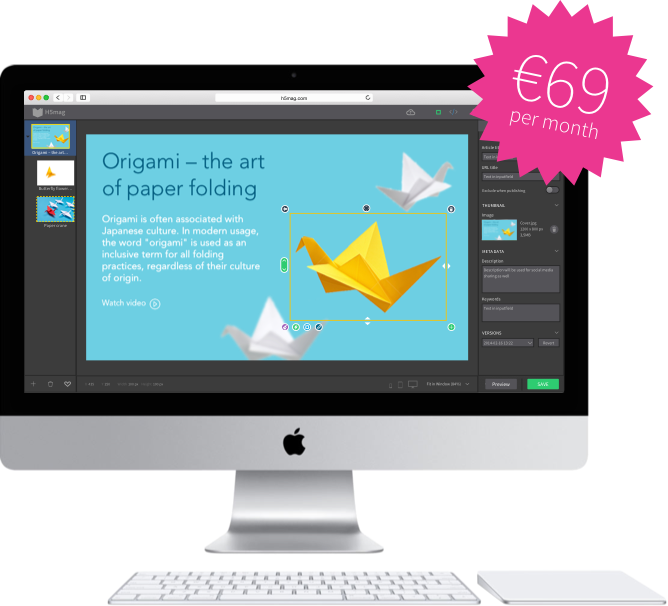 All H5mag features
For € 69$ 79 per month you get full design freedom with all the features and all the updates at no extra cost!
1 project, unlimited editions
Create a project with unlimited number of editions and unlimited pages per edition.
Unlimited storage
All the design space you need (fair use).
Up to 1 million pageviews/month
Plenty for nearly all publications. Buy additional bandwidth for high traffic publications.
Working in a team?
Design, create and write together!
Add new users to your account for
€39$49 per month.
Additional projects
Create multiple projects for your business or clients for a €399$449 one-time fee per project.
H5mag Enterprise
Need a SLA or want a customized integration? Learn how you can use H5mag for your organization. Give us a call at +31 (0)70 31 84 404.
Questions about plans and pricing?
What is H5mag used for?
H5mag software can be used to create many types of online publications. Some popular uses are as:
company brochures
an interactive alternative to newsletters and periodical magazines
event magazines
a content marketing platform
product catalogues with e-commerce integration
dynamic annual reports
Your creativity is the limit! We've also had clients use H5mag to create a digital children's book or sustainability reports.
Who uses H5mag?
H5mag is used by designers, small and large companies and non-profits to create high quality online publications. Check out our showcases page to get inspired by how others use H5mag. If you are interested to learn more about what H5mag can do for your business, contact us at info@h5mag.com.
Can I link my H5mag to a custom domain name?
Yes, it is possible to link your H5mag publication to a custom domain name, like magazine.mycompany.com. It's free of charge and includes SSL. Please contact us for details.
What services does H5mag offer?
H5mag has in-house designers, developers and project managers to help you create beautiful magazines. H5mag Professional allows you to take full control and do everything yourself. Opt for H5mag Enterprise for premium service and made-to-measure plugins.
Where will my magazine be hosted?
H5mag is a 100% hosted service, so no server configuration is necessary. Use our world wide, fast & scalable server platform to reach your audience. Traffic is exploding? High concurrent use? No problem — we're already serving magazines with more than 1,000,000 subscribers. You can also export your magazines for self-hosting.
What makes H5mag different from other programs?
H5mag allows complete design freedom without requiring knowledge of how to code. With our visual editor you can choose to work with a template, but are also free to design from scratch, or create your own templates. Whether you choose to buy H5mag Professional or H5mag Enterprise, you always have access to all design features to ensure that you can create publications that are on-brand and exactly as you envision them.
Can a H5mag Professional license be used by several users?
A single H5mag Professional license can not be used by several users, each person who works with H5mag must have a valid license. You can add additional users for €39$49 per month. You are of course able to share preview publications with anyone, free of charge.