H5mag releases version 2.13
Release date: April 28, 2022
Saved Styles are now updateable per artboard and include the 'popup' setting for the area.
The style options have had a new upgrade. Two new options have been added to allow updating styles per artboard. It was not always clear what changes on other artboards would be saved when updating a saved style, the new option to `Save this artboard` grants the ability to know for sure what will be saved. In similar fashion, the `Revert this artboard` option, also allows you to reset only the current artboard to the saved style, leaving any adjustments on other boards alone.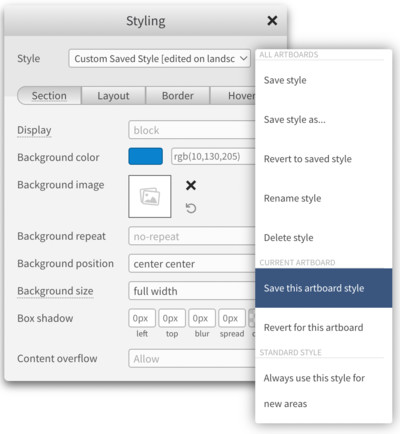 Besides these new options, saving a preset style for a popup section now also stores the selected display `as popup` value, making it easier to style complete areas as a popup.
As a final change to preset styles, the width and height are no longer stored by default, as those often caused more problems. If you are sure you want to store the width and height, you can check the 'Store position' checkbox when creating the style, or click 'Yes' when asked to store the position and width.
​And much more since the last release!
Did you know we has some nice features added between the last mayor release and this one?
Easier support access
The 'Support' link in the editor now opens a popup where you can request support instead of directly opening your mail-client, and provides our support team with links to your page as well.
A new Adobe Animate area
A new area has been added, allow users to add Adobe Animate exports to H5mag.
New Animation Timers
The animation timing options have been extended with a 'Animate after video' option. This allow you to trigger animations when a embed video has ended.
Background Check
A new popup has been added asking users if they want to update the background on all artboards if those used the same image and the background in the Landscape artboard is changed without the 'Copy Styles' artboard transformation on.
What's new in version 2.13
Added the edition URL to the searchable text in the edition overview.
Fixed an issue in the embed script that would cause the embedded magazine to show borders.
Fixed an issue where animations would not always start correctly.
Fixed an issue where the position of an animated element could differ in the editor and the preview.
Fixed an issue where linking to popups in different pages would not always show the correct styles.
Fixed an issue where a hidden 'Set as TOC' article could break links to other articles
Fixed an issue where the texts in the 'Export for Self-Hosting' popup could overlap
Fixed an issue where the edition image in the Subscriber page would be streched