H5mag releases version 2.9. Any Comments?
Release date: November 12, 2018
Did you ever find yourself in a situation where you knew your client had comments on your design or implementation, only to not be able to find the comment in your mailbox or phone? With our new release, we'll save you the trouble of looking for comments. Your customer can now comment directly on the preview link you sent him or her!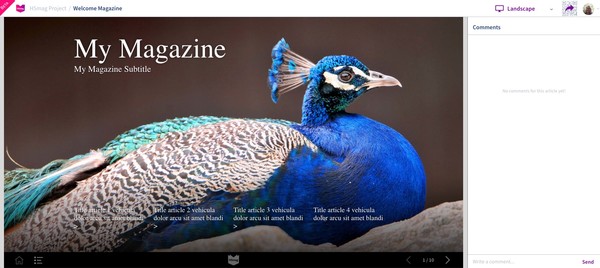 Comment System
This new H5mag release brings you the option to add comments to previews. When opening a preview link from the editor, you will be greeted with the new screen which encloses the actual magazine. Here you or your customer can add comments to the page, making communication a lot easier. You'll always know that your talking about the right article, have all comments grouped and you will even get notified immediately about new comments in the editor and even in your mailbox.
Need to have a quick preview for your Portrait and Mobile views? Try out the new artboard selector! It will adjust your preview to look like a mobile or tablet device. Beware though, many tablet and mobile devices have different sizes, and your browser may not act exactly the same as the mobile version! To be sure everything looks good on mobile and tablet, the best option is to check on the devices themselves.
Sharing your previews has also been updated. A QR-code has been added to allow easy testing on mobile and tablet devices. An option to directly mail the link of the current page is also present in the share options, as is the option to view the page without the comments.
Besides the commenting system, the preview pages have undergone more changes, as you can now preview a single page of a magazine. This could come in handy if you have multiple different customers who should not be looking into the other pages of your magazine. Just select the 'Single Page' option in the preview dropdown and share that link, or use the share popup.
And much more since the last release!
Did you know we has some nice features added between the last mayor release and this one?
After Effects area
A new area type has added which allows you to use After Effects animations which are exported by BodyMovin in the H5mag environment.
Default styling, artboards and 'copy from' values for new editions
Creating clean new editions has become a lot easier as you can now select which parts of the settings and custom scripts you want copied from a previous edition. No need to duplicate a whole edition and clearing out all the old content.
Several speed improvents have been made
The editor has become a lot faster! Several large and small updates have cumulated into making the editor a lot smoother to work with, especially on articles with lots of areas. Expect to see more of these speed improvents over the next few months.
Colors already used in the current article
The color picker has been upgraded with a 'used colors' section. Now you don't have to wonder anymore if the color you picked for the Landscape and Mobile artboard match, it's now just one click to select the correct color. No more copy/pasting values between artboards!
SVGs with non-outlined text in them will trigger a warning
Have you ever uploaded a fantastic looking SVG image only to have your customer or readers respond with a 'why does this look so weird'? It might be you forgot to outline the text in the SVG which prevented users from seeing the correct text. H5mag now detects these SVGs and warns you about them, giving you the opportunity to fix the image before they are thrown into the internet.
What's new in version 2.9
Updated the Table of Contents images to be retina.
Added the option for Enterprise users to have custom project data for newly created projects.
Fixed an issue where n action would not be removed when the 'none' action was selected.